[Today is the last day to enter the HSN.com giveaway!]
Just like the rest of that little entryway,  the stairs in the stairwell leading from the main level to the garage are in dire need of an update.  There are so many different options and ways to go with an update, that sometimes it can be paralyzing and you end up doing nothing.    I've come to realize that, for me, limitations are super helpful.  Sometimes my limitations are clear and right in front of of me, like working around 8 foot ceilings when I would like to have 9ft or more.  There's nothing I can (easily) do about that so I work around it. Other times the limitations are self imposed, like the budget I set to redo our home office.   That limitation helped me prioritize my resources (time, effort, and money) and making decisions became easier.   Oh, I like these fabulous chairs that are $300/each?  Oh well, won't work with the budget, I'll have to use what I have if I can't find them for less.
I've pretty much decided to do the same thing with this stairwell.  Create a limitation so that I can make decisions easily and execute swiftly.    I have already been using what I have (haven't bought anything so far while redoing the space)  and think I should continue that theme for the stairs.   That basically means: more paint to the rescue.
This staircase has a painted runner. I like the clean, fresh feel.
Instead of paint, this 'runner' is the unfinished wood itself.   This one might be the easiest and quickest update for me since the staircase is currently stained wood.
Then, there is the option of painting some sort of message on the stairs.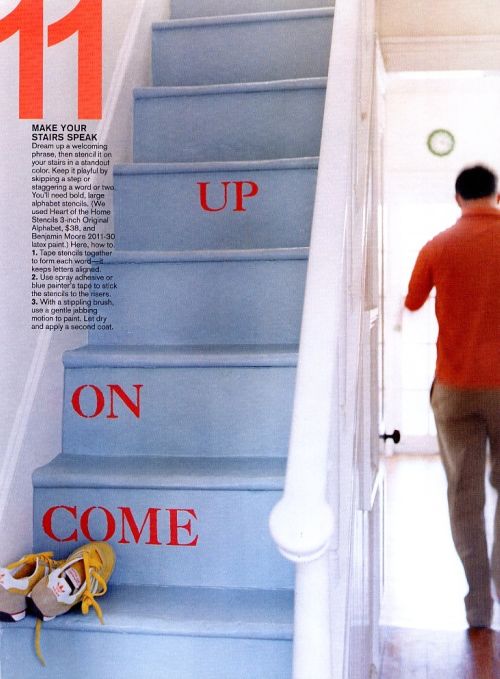 I do see the benefit of having some sort of carpeting on the stairs though.  I don't want anything that looks dirty easily or is hard to clean, so I think jute or sisal may be nice options.   If I go this route, I think I could just get away with buying two runner rugs and stapling them to the stairs.
Which look is your favorite?  Do you like the look of painted stairs?   Would you go with a clean, simple look or a colorful, bold look?
-J
Related
Subscribe to receive new blogposts

Popular posts

Advertise

Paint Colors We've Used

Posts

Archives