Here's another Pinterest challenge.   The goal of the challenge is to do/create something from all of the inspiration you've pinned on Pinterest.  You can see my past entries here and here.
At the heels of the kitchen remodel, I wasn't inspired to tackle anything big for the challenge but I still had an idea for art from this poster I pinned on Pinterest.
It's tiny, but that's "I love pasta" or "Pasta, I love you" in Italian.   I thought that would be a super cute addition to the kitchen.  But I wanted to personalize it because 1) Spanish has more significance for me and 2) Why limit it to pasta?  I love food, not just pasta!
I grabbed this artwork I'd bought at Marshall's years ago solely because it was marked down to $1.00 and I knew I could do something with it  one day.  It was actually hanging on the back of the upper cabinets above the stove for a time.  It's made of wood.
I painted the borders white with the center yellow (yep, it's that same can of Martha Stewart's Cornbread paint that I used on the front door and the mirror).   I printed out the phrase I wanted to use on a piece of paper then I placed graphite paper behind it to trace the words onto the board.
There were a few smudges but I easily just painted back over them.
I used a small tip to paint the words in white.  I'm not sure I totally love the way that part came out and may try another method.  I did sand it a little and still need to touch it up, but I hung it anyway.  Along with the sentiment, I love the color!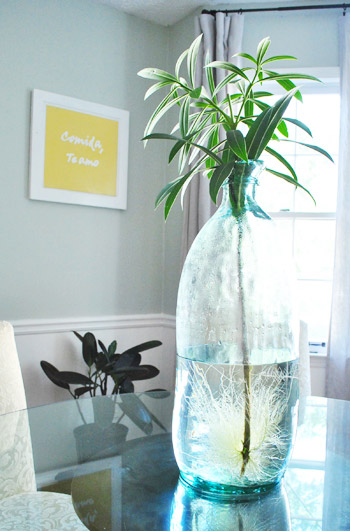 -J
Related
Subscribe to receive new blogposts

Popular posts

Advertise

Paint Colors We've Used

Posts

Archives