I credit the January 2011 Snowstorm for kicking off the living room redo.    I was stuck in the house due to snow and ice covering the ground for a week and decided the living room was bringing me down.   It was not a happy place.  And really, it seemed like it would be very easy to change it.   It's not like walls had to be knocked down or anything.
So, I mentioned this predicament to a friend and she referred me to a decorator friend.  My decorator friend led the way with inspiration.  She came, we saw, we conquered.  In the span of two months, we decided on a plan,  we shopped according to plan, and we executed the plan.
I tackled the walls first.  The walls were what we are going to call Tuscan Yellow, but could also be referred to as School Bus Yellow.   Yes, I was the one who painted them that color to begin with.  But let me back up.  You have to know that when I made that decision,  the room looked like this.

The yucky carpet was the first thing to go.
By the way, note the shelf/mantel in the picture below.  On one of her visits, my mom  took that down and built a new one for me. She's so handy.
You see I was am working with some constraints in this room.  First, it's longer than it is wide and there's only one window, like a light at the end of a dark tunnel.  Second, A likes all of that wood molding.  Maybe I would too if it were a different color stain.   But since it's not,  if it were my choice, I'd paint it all white.  For me, keeping that molding meant that I had to go bright with paint.  I thought if I didn't, it would be a dark dungeon in here because we also have those dark wood floors.  So I spread the Tuscan Yellow Sunshine.   I even received approval from A to paint some of the wood molding. That's why you see less here than you did before.
I still think the yellow could've been a success, but something went wrong with the rest of my execution.  I combined red.  And other strangeness.  And let's not forget all of this was done on the most miniscule budget ever.  I'm going to blame the budget.
That unfortunate-ness lasted for several years.   Until the snow came and washed it all away.    The yellow was too stimulating for relaxation.  One day after the storm, I just announced to A that I would be redoing the living room and that I had a budget and I would stay under that amount.    We did well, we only went over by a little.    But I had so much fun. It was fun and exciting to shop for specific pieces to complete the room and it was the first time I'd ever really done a project like that.  It started a slight obsession with design and decorating and blogs.
After that, I started working on the master bedroom.  But I put that on pause to redo the dining room. (Will get back to the master bedroom soon)  Notice I jump around? Is that design ADD? And while all of that was going on, I decided I would remodel the kitchen as well.  But that is next year's project.  I have to save my pennies.
So, back to the living room.
What Stayed The Same:  the couch, the floors, the wood molding, the fireplace.
What's New:  Paint: the top wall color is Behr's Mochatini. Let me get back to you on the name of the dark chocolate color on the bottom is Sherwin Williams' Chateau Brown.  The rug is from Home Depot.   The curtains, silk pillows, and the banana leaf chair are from Pier 1.   The armless chair is from Marshall's.  The other pillows were custom made with fabric I already had.  The desk and TV stand are both Craigslist finds.  The gallery art wall are photos taken on our trips printed in 11×14 and 8×10 sizes.   Ghost chair  – ordered online.
So here it is now.  It's not fancy, but it's much nicer, and super relaxing and enjoyable to be in.  Happy.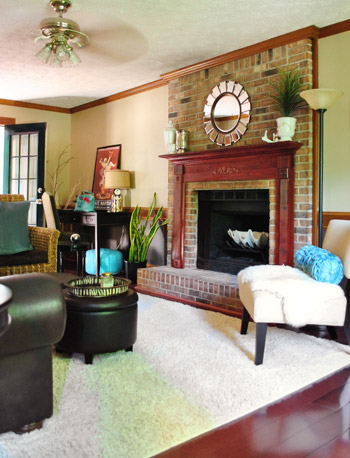 See more about the new sofa here.

Still need a decent ceiling fan.
-J
 Sharing with Thrifty Decor Chick
Related
Subscribe to receive new blogposts

Popular posts

Advertise

Paint Colors We've Used

Posts

Archives